Show Calendar
Arizona Fine Art Expo (Studio 33) --- January 13, 2017 thru March 26, 2017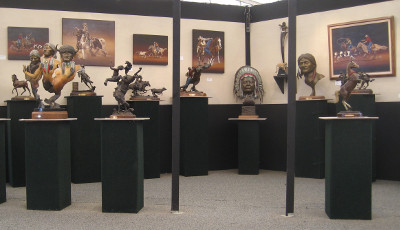 From the show website:
The Arizona Fine Art EXPO unites an impressive gathering of 100 nationally acclaimed and award-winning artists who passionately produce art in studios and cabanas. Artists can be seen painting in all mediums, sketching in pen & ink, pastels and pencil, assembling mosaics, sculpting clay, carving wood, composing mixed media on canvas, welding, designing and sculpting jewelry. Outside, artists can be found working in outdoor cabanas carving alabaster, etching stone, welding metal, steel and copper, applying patinas, carving wood and more!.
Arizona Fine Art EXPO is located on the southwest corner of Scottsdale and Jomax Roads, (26540 N. Scottsdale Rd., Scottsdale, AZ 85255) just 5 miles south of Carefree next to MacDonald's Ranch. Coming from the south, on Scottsdale Road, cross over Loop 101 and continue north 5 minutes to Jomax. Open daily from 10:00 am until 6:00 pm. Season passes are $10 and $8 for seniors and military.
Shows from Prior Years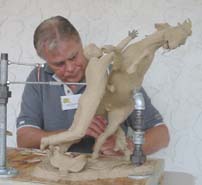 American Academy of Equine Art,International Museum of the Horse, Lexington, KY
American Plains Artists, Great Plains Art Museum, Lincoln, NE
An Affair with the Arts Silent Auction and Show, West Valley Art Museum, Suprise Az
Anthem Festival of Fine Art, Annual Art Show, Anthem, AZ
Arizona Artists Guild, Spring and Fall Exhibitions, Phoenix, AZ
Arizona Fine Art Expo, Hugh Blanding Studio, Scottsdale, AZ
Canyon Ridge Art Gallery, Thursday Night Art Walk, Scottsdale, AZ
Carefree Fine Art & Wine Festival, Thunderbird Artists Fine Art Show, Carefree, AZ
Chandler Center for the Arts, AAG Exhibition, Chandler, AZ
Colonnade "Art Walk", Sun City Grand, Surprise, AZ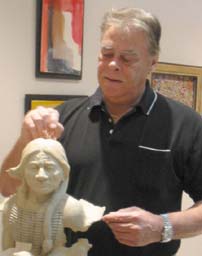 Empire 100 Western Art Show & Sale,Northern Trust Bank, Tucson,AZ
Empire Ranch 2006 Roundup and Western Art Show, Sonoita, AZ
Fountain Hills Great Fair, Biannual Fine Arts and Crafts Show, Fountain Hills, AZ
Frank Howell Gallery, Indian Market Weekend, Santa Fe, NM
Glendale Arts Commission, "A Night With The Artist", Glendale, AZ
Glendale Arts Council, Annual Juried Fine Arts Exhibition, Glendale, AZ
Gold Nugget Art Gallery, Spring and Fall Art Festivals, Wickenburg, AZ
Loveland Sculpture Invitational Show and Sale, Annual Sculpture Show, Loveland, CO
Motherlode Fine Art Gallery, AAG Exhibition, Cave Creek, AZ
North Mountain Visitor Center, Painted Desert Show, Phoenix, AZ
Phippen Museum Western Art Show and Sale, Annual Art Show, Prescott, AZ
Scottsdale Fine Art and Chocolate Festival, Thunderbird Artists Fine Art Show, Scottsdale, AZ
Sedona Art and Sculpture Walk, Annual Art and Sculpture Show, Sedona, AZ
Shemer Art Center, AAG Exhibition, Phoenix, AZ
Gallerys that have Represented Me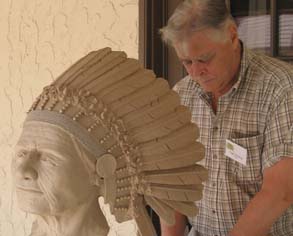 Canyon Ridge Gallery, Scottsdale, AZ
Frank Howell Gallery, Santa Fe, NM
Galleria Classico, Cave Creek, AZ
Gallery of Dreams Fine Art, St. David, AZ
The Gold Nugget Art Gallery, Wickenburg, AZ
Sedona Art Center, Sedona, AZ
Three Forks Gallery, McCall, ID
Wildfire Gallery, Cave Creek, AZ